FoxyJohn Production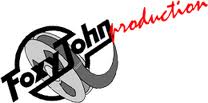 The FoxyJohn Production is a production center for audio radio service of the early '80s.
In agreement with NewRadio we offer a series of programs dedicated to both the FM radio that the web radio:
Discount of 10% for all NewRadio customers
Just enter the code in the space called "voucher" that is located in the shopping cart page before the moment of purchase. After entering the code and clicking "Apply discount" the cart will subtract 10% from the final.
To find the code you need to register as a customer NewRadio.