MB Live: Broadcast from all the World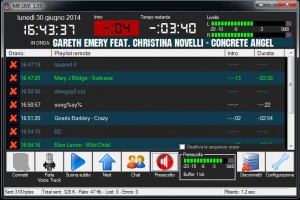 MB Live allows you to stream broadcast on MB Studio and MB Recaster PRO from all around the world. It is the most comprehensive and affordable professional solution for transferring audio from one point to another.
MB LIVE is a free program that comes with the purchase of MB STUDIO 8 PRO, PRO MBRecaster or renting the service MBCloud.

Description of MB Live
MB LIVE is the software for transmission live audio from an external location to the study center. The connection allows the transmission of external events such as live radio commentary, music events, sports and news.
Caratteristiche di MB Live
Features of MB Live
Audio connection point – point in 2 directions (FULL DUPLEX)
Audio formats supported in transmission: MP3, AAC +
Excellent sound quality already 32kbs AAC + (to go LIVE remotely with a simple UMTS
Delay in transmission (high quality): Less than 1.5 seconds
Delay in receiving / PFL (low quality, just for control and communications): less than 300 milliseconds
Free password protected (prevents unauthorized connections)
Automatic reconnection in case of line drop
Function Voice Track: Clicking on the TALK button sound is superimposed on what is on the air at the time of MBrecaster MBStudio or lowering the volume (programmable).
Chat function (for messages with an operator in the studio (only MBStudio)
Possibility of local recording of the program directly from MBLive
Partial control of the elements in the page running in the studio (only MBStudio: delete, move, show intro song and duration
Real-time statistics of delay, network errors, and amount of data transmitted.
How does MB Live work
In outside all you need is a laptop or desktop computer and a conventional telephone line or ISDN, or ADSL, or simply a GPRS or UMTS using a mobile phone or modem in "stick" USB. Once you reach the place of the event that you want to convey, you simply connect to the Internet, perform MB LIVE and connect with the study center at the time and wanted to go live. It is not necessary the presence of personnel in the study. The program is completely full duplex and allows you to hear the audio return from studying in real time (without delay).
Requirements for use MB Live
In the study center you must have a licensed copy of MBRecaster PRO or MB STUDIO 8 PRO, an ADSL connection and the opening of a TCP inbound on the router (this operation requires access to the router with login / password and some technical knowledge to configure).
In addition to the MBLive functions you also includes all the power of its programs.
MB LIVE only works in connection with MB STUDIO PRO version of 8:35 or greater and with MBRecaster PRO, it does not work with MB STUDIO LITE or 8 MB STUDIO 7 or DEMO versions.
It can be installed on one or more computers, it does not require activation of the license and the key crypto USB box.