Programs and Services
Conventions of NewRadio
with programs and services suppliers.
NewRadio stipulated several agreements with outside companies that produce content on a professional level to be included in the programming of their own web radio or FM station.
Newsletters, magazines, commercials, jingles sung, complete programs.
Look and choose the contents that can enrich your channel. NewRadio guarantees for the quality!
Within your customers area will find the codes for conventions with NewRadio.
RADIO PROGRAMS
Valuable content for your radio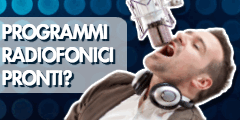 ✔ Radio programs complete
✔ Powered by RadioSpeaker.it
SPOTFARM
The ideal partner for your brand advertising

✔ Try one of our packages, the first spot is free!
✔ Spot Audio from 6 €
✔ Professional, efficient, immediate