That is through technology REMOTE DESKTOP. By installing the free program on your computer that you want, we will be able to "Enter" as if we were at your side and follow the configuration or installation of servers and software necessary to stream.
To use this service you must be remote support our customer and purchasing one of our plans for streaming; then simply open a support ticket or call us at 0683393633 from 10 to 18 (except Saturday and Sunday) to arrange an appointment with us for the link.
Our company uses Supremo remote control. Supremo program is a much lighter and less invasive TeamViewer or VNC:
Is discharged in a moment and you do not install. And 'necessary to download it to your desktop and run it. The first time it ask you if run or install it. You always choose: ' Run Supremo'.
At the end of care, if you want, you can immediately throw it in the trash or keep it ready for the next time you need assistance with us.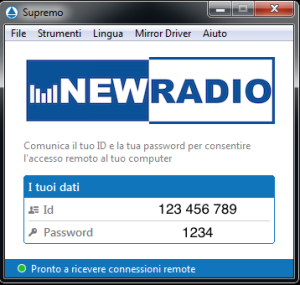 Like TeamViewer, Supremo  use ID and password. Without your consent it will never be possible to get on your computer from anyone.
Download our Custom Client for remote assistance
Work on any version of Windows only
Ask for a Remote Support from Newradio on your computer