The
basics of how to
use
the control panel
of our
HTML5
Player
-
play5
.
Upon delivery
of the
player,
you
will be sent
a username and password
of your
control panel
play5
.
Skip to
http://play5.newradio.it
Enter your username and
password
we sent you
and
you will arrive
in your
area
player
that contains
all players
who
have
rented from
play5
NewRadio
.
Clicking on the name
of the
player
will enter the
configuration page for the
player
: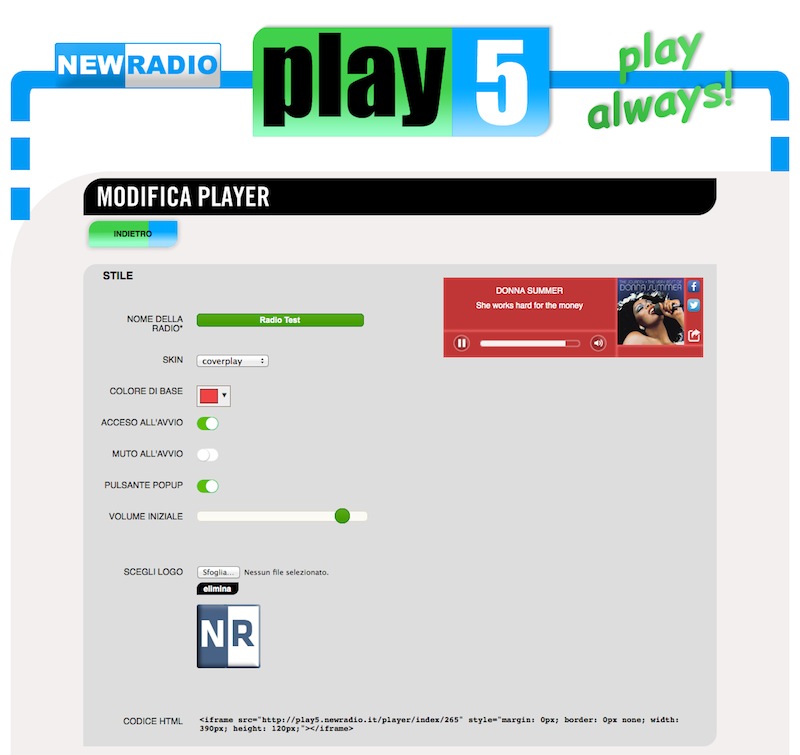 The page is completely dynamic .
This means that every time you make a change in the parameters , immediately the player demo on the right will be updated with the new configuration.

In fact, it will not be necessary at the end to save the settings because they are saved automatically to any changes .

So you can immediately check and test the effect of your settings prsonalizzati .

If the player is already published on your own page , any changes will take effect immediately immediate everywhere.

Some features are not available on some skins .


The first field ( if not already set ) contains the name of your station ( which appears at the opening of the player and in times of transition )

The field ' Skin ' : choose the skin you prefer among the defaults or leaves of ' custom' if the graphics of your player is personalized .

' Base color ' : You can change to your liking the background color of the player for a better harmonization in the template of your page


'On startup ' : If turned on, the player is set to AutoPlay , that sounds just immediately open the page.

If you turn off the player will be off and you will need to press the PLAY button to listen to the radio .

' Mute startup ' : The player is turned on but in ' mute ' and when the page opens .


' PopUp Button ' : If set on, the player displays button to open the player in a PopUp .

When you open the PopUp player source stops and the listening continues on the new one.

' Initial volume ' : The volume setting will be the default when opening the player .

' Select ' logo : If you have not already set, here you can upload the logo of your radio that will be displayed to Player stationary or when there are no covers


' HTML code ' : Here's the updated HTML code to copy and paste on your pages.

Remember that if you change skins , you will need to replace the code only if they change the size of the player itself .



All other options are not editable from this panel but only by contacting our Customer self-treatment .



URL of the streaming server

I

D TradeDoubler

Activation / deactivation covers


As features are added to play5 find the related settings in this panel.



The control panel of play5 is currently not available for multi- player and heavily customized .